Can Il Makiage Keep Up the Glam? A Showgurl's Review
This is not a tutorial. I ain't got the time.
This is a delayed report on how well brand-new makeup line Il Makiage holds up over the course of a sweaty night. Delayed because several eclipses plus a 6 months late menstrual period (thanks, uterus!) conspired to keep me moving like molasses for the past five weeks.
Moving right along... So I got my Il Makiage make-over at the Zaha Hadid Architects-designed, Soho-located pop-up boutique in late July, but I first noticed the brand back in early June, when I washed up in New York City, not sure what the next step in my life would be. As I was traipsing around downtown one day, dropping off my resume at different bars and nightclubs, I noticed some striking posters and billboards up around the neighborhood and on the subway.
...took the words right out of my mouth
Look, I went to art school - I'm intimately familiar with how ad companies use art and color to convince us to part with our money. I can break down any advertisement to you. So I admire how Il Makiage dispensed with the bullshit and spoke directly to me as a consumer. Maximalist. Extra. Turn down for what?
Daytime look goals AF
It's only recently that I've finally come to terms with the fact that I'm extra as fuck, and nothing turns me on like a well-executed extravaganza. So as an older woman who has little use for the natural makeup trend going on now, I'm immediately bought-in to the brand. I followed them on IG and gave a mental "THAT'S RIGHT, GIRL!" every time I saw one of their advertisements. And then I'd remember my pennilessness, and how if I were ever going to get a chance to try the brand, I needed to hurry up and snag myself a rich husband. Then they announced free makeovers in Soho.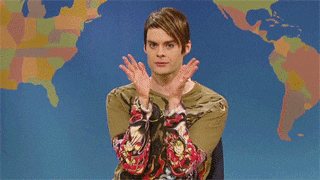 YOU KNOW MY COUPON-CUTTIN' ASS WAS THE FIRST TO SIGN UP.
Here's the thing though: a slick advertising campaign only goes so far. And just because a makeup brand sets their price point higher than drugstore makeup doesn't automatically mean it's long-lasting or any good for your skin. As a bargain-hunting showgurl, all makeup I buy is a straight up long-term investment. I don't want it running and smearing as I sweat my ass off giving my all to an audience, and I don't want it irritating my skin just because it's been on for seven hours. So I approached my appointment as an opportunity to test Il Makiage as an investor would. And since it's not like I had an event, shoot, or performance that evening, I decided to test the brand's effectiveness using the crushing New York City humidity. 
I was assigned to an incredibly talented makup artist whose name is Danisha, and I let her know that I wanted her to throw everything but the kitchen sink at my face. Just no Kardashian brows. 
In a perfect world, I've got the budget for @heroinemua to be my personal glam artist whenever I'm on the east coast
Here's a list of the products she used on me:
"Woke Up Like This" base foundation #175
Hydrating Setting Spray
"Hypnotize" fill & fix brow shaper in Espresso
waterproof lipliner in Spooky (appropriate and on-brand)
"Icon" high volume mascara in Black
Black "Inkliner"
"Color Boss" eye color #983 & #971
"Color Boss" color quad palette "Trendsetter"
semi-matte lip color "Royal Flush" and "Mango"
"Mystique" correcting cream concealer #16 
"Cookie" pressed powder
"Chandelier" mineral baked highlighter
"Lady Marmalade" mineral baked blush
👏🏾I 👏🏾SAID 👏🏾EVERYTHING 👏🏾BUT 👏🏾THE 👏🏾KITCHEN 👏🏾SINK.
Here's my face before she got started:
And approximately 45 minutes later, this was me:
I told you this wasn't a tutorial. 
Now began my experiment: run approximately 1000 errands on foot downtown, take a sweltering train back to Brooklyn, and view the damage at the apartment where I was staying.
I was hot. I was sticky. I looked like this:
Verdict = GIVE ME ALL OF THE PRODUCTS 
Give them to me NOW. By the way, I wasn't paid for this review, nor was I given any product. My go-tos are usually a mix of drugstore and high-end, and I take what I can get (lots of freebies over the years), and I'm grateful for it all. But I'm adding "integrate Il Makiage products into makeup arsenal" as an action item on my checklist for world domination.
Have you tried their products yet? Let me know what you think in the comments if you have, and also make sure you're following @oddboddie on IG!
Alexandria Boddie

I'm a one-woman circus and the world's most passionate Grace Jones stan. Everything about your planet confounds me, except cats. Book me: hritalent.com
---
---